SikaBlock® tooling boards
We supply an extensive range of application-oriented system solutions, consisting of special pattern and tooling plates, as well as suitable adhesives and filling compounds
The plates are based on polyurethane (PUR) and epoxy (EP) and are used for the construction of patterns, moulds and tools.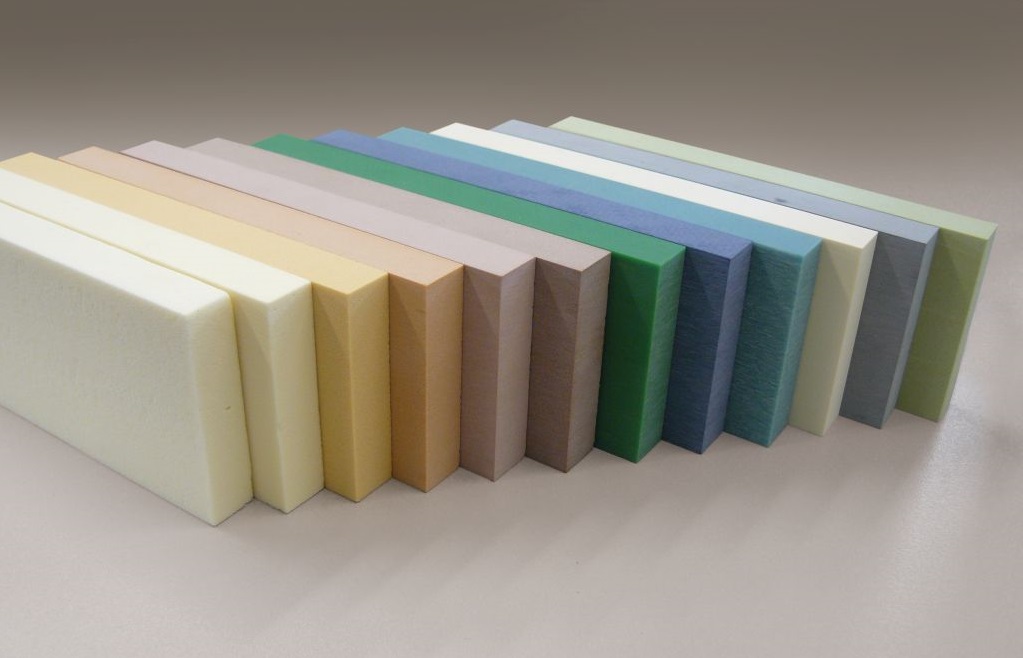 Depending on requirements for the model or mould, customers can choose between different plates with a density of 0.08 to 1.3 kg/dm³.
The broad range of different densities means we have the right plate for almost any application in terms of surface quality and mechanical properties.
Special EP plates provide high temperature resistance combined with excellent dimensional stability, thanks to a low CTE, and can be used for prepreg applications.
SikaBlock® Model boards
M80

M330

M600

M700

Density [g/cm³]

0,08

0,24

0,6

0,7

Colour

yellowish

siena

light brown

light brown

Material

PUR

PUR

PUR

PUR

Characteristics







fine and non-powdery surface
easily workable
low dust formation when milled




excellent surface quality
very good milling behaviour with low dust formation




easily workable
fine, dense surface
good compressive strength and edge stability
good heat distortion temperature


easily workable
fine, dense surface
good compressive strength and edge stability
good heat distortion temperature


Applications







Test milling, design studies
substructure for clay
simple negative moulds




Styling / design models, substructure for model pastes
simple laminating moulds




Master models, core models, negative cubings / data control models
Laminating moulds, moulds / tools for lower number of pieces (e.g. LP-RIM, vacuum forming, core boxes)




Master models, core models, negative cubings / data control models
Laminating moulds, moulds / tools for lower number of pieces (e.g. LP-RIM, vacuum forming, core boxes)




Dimensions [mm]; [ltr.]







2000 x 1000 x 100; 200
2000 x 1000 x 200; 400
2000 x 1000 x 400; 800
2000 x 1000 x 450; 900
2400 x 1300 x 100; 312
2400 x 1300 x 200; 624




1500 x 500 x 50; 37,5
1500 x 500 x 100; 75
1500 x 500 x 200; 150
2000 x 1000 x 50; 100
2000 x 1000 x 100; 200
2000 x 1000 x 150; 300
2000 x 1000 x 200; 400
2000 x 1000 x 250; 500




1500 x 500 x 30; 22,5
1500 x 500 x 50; 37,5
1500 x 500 x 75; 56,25
1500 x 500 x 100; 75
1500 x 500 x 150; 112,5
1500 x 500 x 200; 150




1500 x 500 x 30; 22,5
1500 x 500 x 50; 37,5
1500 x 500 x 75; 56,25
1500 x 500 x 100; 75
1500 x 500 x 150; 112,5




Shore hardness

-

D 25

D 58

D 66

Flex. strength [MPa]

1

5

19

26

Thermal resistance [°C]

130

60

80

90

CTE αT [1/K]

50 x 10-6

65 x 10-6

55 x 10-6

55 x 10-6
SikaBlock® Tooling Boards



M1000


M945

LAB 975 NEU

LAB 973

Density [g/cm³]

1

1,3

0,7

0,75

Colour

white

green

light green

blue

Material

PUR

PUR

EP

EP

Characteristics










medium density
good compressive strength and edge stability
low thermal expansion and high dimensional stability

good abrasion resistance
easy to mill
high strength

new low density epoxy board
high dimensional stability under pressure and heat up to 130°C
excellent performance / price ratio

low density epoxy board
high dimensional stability under pressure and heat up to 125°C
superior machinability and surface aspect

Applications







Models making and simple mould manufacture
Manufacture of gauges, moulds and tools

Match plates, foundry patterns
Core boxes
LP-RIM-moulds
Meta sheet forming tools
Hammer forms


Master models, core models, negative cubings / data control models
Prepreg moulds and parts (up to 120°C curing)
Vacuum forming moulds




Master models, core models, negative cubings / data control models
Prepreg moulds and parts (up to 120°C curing)
Vacuum forming moulds


Dimensions [mm]; [ltr.]







1500 x 500 x 50; 37,5
1500 x 500 x 75; 56,25
1500 x 500 x 100; 75




1000 x 500 x 30; 15
1000 x 500 x 50; 25
1000 x 500 x 75; 37,5
1000 x 500 x 100; 50




1500 x 500 x 50; 37,5
1500 x 500 x 75; 56,25
1500 x 500 x 100; 75
1500 x 500 x 150; 112,5
1500 x 500 x 200; 150




1500 x 500 x 50; 37,5
1500 x 500 x 75; 56,25
1500 x 500 x 100; 75




Shore hardness

D 75

D 83

D 75 (D 68 @ 130°C)

D 73 (D 63 @ 130°C)

Flex. strength [MPa]

48

100

30

30

Thermal resistance [°C]

85

80

130

125

CTE αT [1/K]

50-55 x 10-6

65 x 10-6

35-40 x 10-6

35-45 x 10-6